Amazing insights from amazing coaches

I am blessed. Not only do I get to speak to and coach leaders around the world, I get to meet, hang with, and learn from the best of the best. Here are two
sets of my heroes and their latest books.


How to Hack Yourself
In this video, Vishen Lakhiani discusses Consciousness Engineering, a method
he designed for shifting human potential by teaching people how to adjust
the two pillars of yourself that ultimately MAKE you. The first pillar is your
Models of Reality. The second pillar is your Systems for Living.

The video covers a small portion of what's in his new best-selling book,
The Code of The Extraordinary Mind. Get it now! I feel blessed to know
this man, the founder of Mind Valley.


The last time I was in Kuala Lumpur, where he is based, I spent the night with Vishen and his wife,
Kristina, at Mind Valley's
Halloween party. What I love about Vishen is his
passion for life and his deep spirituality splashed with a healthy dose of fun! When last we met, he gave me a tour of their new
steampunk-theme addition to their offices, in addition to the superhero murals, statues and artifacts.

In this post, he shares that, although he was raised Hindu and Kristina was raised Orthodox and Lutheran, they've chosen to raise their son Hayden on
Star Wars spirituality.

If you want to learn more about Vishen's Consciousness Engineering course,
sign up here.

How to Design the Life You Love
Ayse Birsel left Turkey to work and teach in New York, and is an award-winning product designer. Everything was going great — until it wasn't. Her life and
career hit a wall. Going nowhere fast.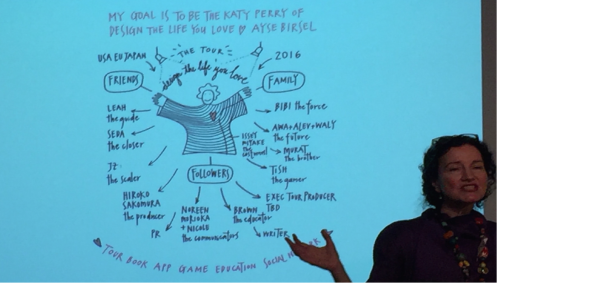 Like many of us, at first she experienced depression. They she decided she would tackle her life as if it was a design project. She created a huge poster for her bedroom wall that declared: "My goal is to be the Katy Perry of Design the Life You Love" — complete with a book, book tour, an app, a game, and more.

At first it was just a vision. Then it was realized. I attended a workshop launching her new book, Design the Life You Love.


Helping her launch it was one of her mentors and mine, Marshall Goldsmith, who was recently named the #1 leadership thinker in the world. (While he graciously has written cover quotes for a couple of my books, we had never met face to face before Ayse's book launch. Thus the selfie to the right.)

Beyond Ayse's wonderful content and graphically great book is her background
in design thinking — which, at its core, is about working backward from the
needs of individuals… be they customers, employees, or, in this case… you.

Ayse helps the reader deconstruct their life into four quadrants — Emotion,
Physical, Intellect, Spirit — and then reconstruct your life as you would
like it to be… The life you love.

Design Your Life, Choose Your Path
Whether you choose the resources above (or…Shameless Plug: choose to write
a Legacy Letter from my book, What Is Your Life's Work?), always remember:
You get to design your life. You get to choose your path.
No one else. You.