You ain't seen nuttin' yet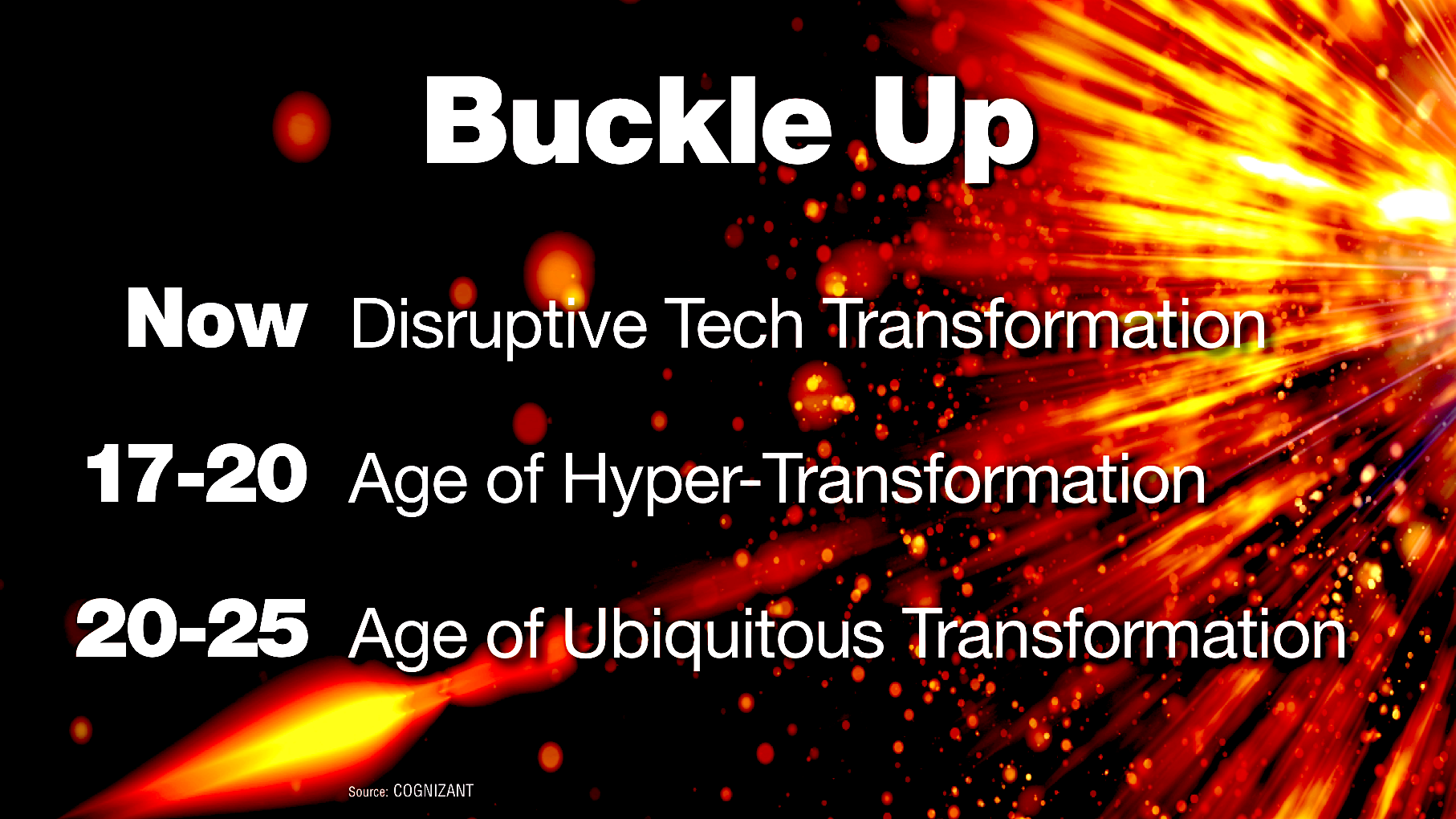 I've been researching and consulting on corporate change, change
management, and creating the future of work for more than a quarter
century. And the tune has always been the same: "Prepare for the big
change! The next few years is gonna be it!"

Blah, blah, blah. While change definitely has been becoming more volatile,
faster, and more urgent… Somehow leadership behaviors and corporate
systems still lagged way behind. AKA: "You, the workforce, must change
at lightspeed pace, but don't expect our legacy systems and legacy leader
behaviors to keep up with you. Now, run along."

Well, mark 2017 in your calendars as the Good Ol' Days. All that is really
gonna change — at a whipsawing, headsnapping pace.

A recent study by Cognizant has analyzed what AI and the cognitive era
will do to corporate change. The next 40 months of exponential growth
in digitization and machine learning will "fundamentally change how
businesses create value, satisfy customers, and outperform competitors."

• Now: Disruptive Tech Transformation

• 2017—2020: Age of Hyper-Transformation

• 2020—2025: Age of Ubiquitous Transformation

Cognizant says that to succeed in the Age of Hyper-Transformation,
companies must "…speed the tempo of operations beyond human time to
digital time. The demands for digital time require humans to upgrade
IT environments and augment their capabilities with AI and robotic
process automation (bots) to enable mass volumes of transactions
to be processed in milliseconds in order to support real-time
and mobile environments."

And in a separate study, Fortune magazine just announced that 81%
of Fortune 500 CEOS believe that AI and machine learning are either
very important or extremely important to their company's future.

Translation: Buckle up!

We're all in for one helluva crazyass ride!