The future can be tough and tricky…
Master these four and it will be a lot easier!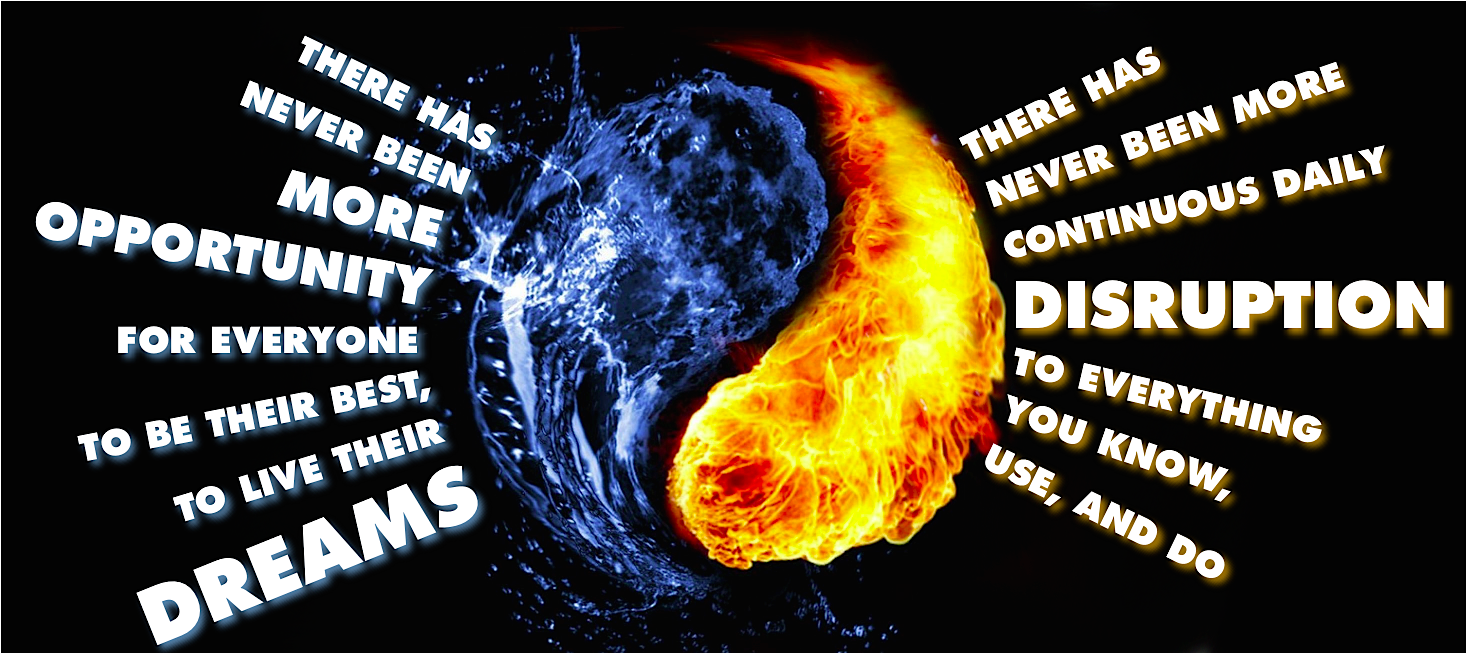 For almost three decades I have been studying how work gets done, and how
it will get done.
I have never been more optimistic and more concerned than I am right now.
Two epic forces swirl in and out of each other, dancing with and teasing each
other. Each one aids the other, taunts the other…
Massive daily disruptions in most everything at work and in life are creating
amazing opportunities for anyone with a dream and willing to work hard.Those same continuous daily disruptions ALSO mean that it's getting harder and harder to get things done, figure out what to do and maintain effective habits. That means…
The future of working smarter will be based on
your ability to continuously take advantage of those disruptions — to create new products and services, new ways of working, new ways of being.
That sets up 4 wicked truths in every attempt to work smarter, not harder…
1. Step 1 is Always: Disrupt Yourself
Do unto you before others do it for you. A lot of the future of work will take you out of your comfort zone. Daily. Hourly. In her TEDTalk, Roselinde Torres says great leaders ask themselves, "Am I courageous enough to abandon the past?" In a disruptive world, that applies to all of us. From now on, personal mastery begins with disrupting yourself. Tom Asacker, author of The Business of Belief, addresses this in a YouTube interview: "Most people are driven by their perceptions, not their imaginations." He advises us to change the stories we tell ourselves.
2. Become Friends with Failure
The overwhelming majority of us have a bad relationship with failure. We avoid it, spin it, package it…Do everything we can to avoid it. The future of working smarter will include lots and lots of failure. For you. For all of us. If you're not failing or really struggling, you're not experimenting. If you're not experimenting, you're not only missing amazing opportunities — you're stuck in the past.
Need a kick in the ass on Friending failure and struggles? Here's a 3-minute read by Madelyn Murray — Becoming Great Through Struggles — about embracing her Tourette's syndrome. Or… Maysoon Zayid's powerful and funny TEDTalk, I Got 99 Problems…And Palsy Is Just One.Struggles and failures truly reveal the character within each of us.
3. Know How to Sell Bold, Epic, Different Ideas
TED's mission may be about ideas worth sharing…but all that viral sharing doesn't just happen on it's own. (Go here, here, here, here and here for How to Give a Great TED Talk.) In a disruptive world, where change happens hourly, a lot of whether you will be working harder or smarter will depend on your ability to sell ideas — to communicate them with such passion, conviction and poise, that others will follow you…including those who are supposed to lead you.
4. Your Tools, Your Growth
Even with all the amazing, empowering, fantastic leaps technology has made for us, I remain horrified by the gaps between what companies build for the company to succeed and what you need to work smarter, not harder. (Corporate-centered vs. user-centered: See Work 2.0 Report: Is Business At War With Its Workforce?) While lots of terrific progress has been made…
For the foreseeable future, you will have to ensure your worktools always help you be your best, do great work, and save you time and effort. If what the company provides isn't as good as what you could get on your own — hack a workaround!
• This is a FAR larger issue than most in the workforce realize
• The Internet of Things will connect most everything by 2020
• Enticing most companies to be a lot MORE corporate-centered!
Your tools, your growth, your learning are your responsibility. If your company does this better than you could…Great! If not, take charge!
These four are not the only wicked truths in working smarter, but tackle them and you'll be well on your way.