"We are capable of so much more than we think we are."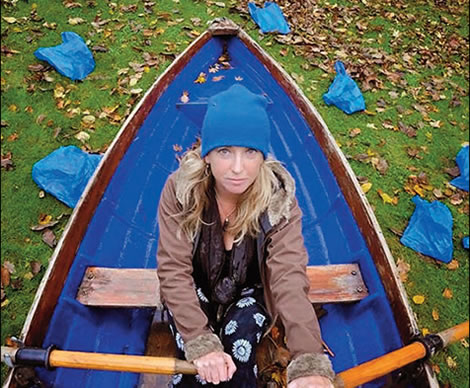 That's Roz Savage, the first
woman to row, solo, across
three oceans — Atlantic, Pacific and Indian.
"At first, I was very materialistic.
I went into management consulting in an era when greed was good and lunch was for wimps. I thought that was what I wanted, that that would make me happy.
"What really brought it home tome was that I wasn't on the right path was when
I wrote two versions of my own obituary. I imagined I was at the end of my life,looking back. The first version was the one that I wanted and the second one was where I was headed for. I wanted a life of meaning and adventure and
personal challenge, but what I was headed for was a life of quiet desperation.
Secure, but being stifled by that security.
"The hard decision was giving up all that had meant so much to me.
I decided that I would row across oceans to raise environmental awareness."
(Here, here and here are a few of her amazing podcasts with fellow
adventurers who push themselves and endurance to their limits.)
"There's a growing awareness that the things that
we thought represented security and happiness, do not.
Becoming secure with insecurity is the best security that
you can have."
Few of us will ever push ourselves, physically or into truly risky situations —
as far as Savage has.
And yet…
All of us need to push ourselves further when it comes to becoming secure
with insecurity.
Most of us, when something overturns whatever boat and whatever journey
we're on, still fight to get everything back to the way it was. Myself included.
All of us need to realize that we can push ourselves further when it comes to
being secure with insecurity. That risk, for most of us most of the time, is not
life-threatening risk. That we can push beyond where we are now. We can.
We must. Because on the other side of that decision lies happiness.
Have you pushed far enough?
> > > > >
To consider this further…
Want to participate in the Future of Work study?
Want early results and a possibility of winning a free copy of the
resulting book?
Please take this brief survey